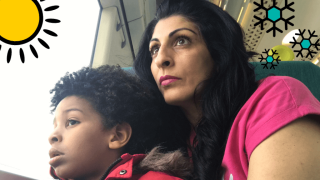 Sabina's Story
Sabina's ex-partner was controlling, and made life incredibly difficult for both her and her 3-year-old son Dion, who has suspected autism. Their holiday helped them both grow in confidence.
If you would like to help families have the chance to have fun together on a holiday, try new things and see each other smile, you have come to the right place. 
Family Holiday Charity exists for children to splash in the sea or play in the sand.  We're here for running through fields and climbing trees. We're here for picnics, selfies and being away from home – together. 
Holidays open new opportunities – a chance to reconnect, try new things. A chance to clear your head from the day-to-day and reset. 
For the families we're here for, a holiday, short break or group day trip is out of their reach. We're here to take away the pressure of having to make choices between experiences or new school shoes. 
And here to give the gift of a lifetime – space and time, and a chance to make lasting happy memories.
Pay in your fundraising
If you've been fundraising for us and are ready to give us the funds, you can do that here.