Give the gift of a holiday this year!
Are you a frequent traveller and looking for a way to give back to people who have never been away before? Look no further. By donating £600 you can help a UK family in need experience the joy of a holiday. This small gift can make a big impact on a family facing illness, isolation or bereavement, some of whom have never had a holiday of any kind before. Holidays are the gift of a lifetime that bring lasting memories, confidence and hope for the future. Give the gift of a holiday today.
Donate now and help a UK family facing tough times create memories that will last a lifetime. 
Hundreds of thousands of families have never been away on holiday.
For some, it's a matter of cost. For others, its because they're dealing with pressures like illness, disability, long-term health issues, the impacts of bereavement, abuse, complex family care arrangements, and more.  
We're here to help these families as they face tough times. We're here for stressed-out mums, dads and carers.  For children who've never seen the sea or flown a kite. We're here for families to make positive memories together while enjoying ice creams, building sandcastles and feeling free, just for a little while.  
Your gift of £600 will mean that at least one family* is able to have a UK holiday this year. Your gift is of joy, laughter, moments and memories. Of trying new things and expanding horizons. It's a gift of confidence and hope for the future.
Donate today and receive a gift pack that includes stories about about the families who your gift is supporting. You'll also get a little set of postcards so you can share joyful moments of your own holidays with your family and friends.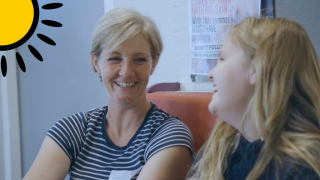 You'll be helping families like Rachel
Rachel is a mum with a lot on her plate – a husband with Parkinson's that is declining quickly, and a son who is nonverbal autistic. Her daughter, Isabelle, is stuck in the middle trying to help Rachel and stay on top of schoolwork.
*In 2022, the average family size for a Family Holiday Charity holiday was 4 – 2 adults/carers and 2 children.  Obviously, family sizes vary. The costs include accommodation and a contribution towards travel and food, both of which are added barriers to families being able to take a break. 
Holidays illustrated may have already taken place and the journey recreated for safeguarding and permissions purposes.  Funds donated will be used to support families across the UK where the charity deems the need is the greatest.