Every day, families face tough times up and down the UK.
For some, facing loneliness and isolation, long term illness and learning to live again after bereavement, a holiday is a vital glimmer on the horizon.  A chance to take space away from difficult situations, reflect and return refreshed and with a new perspective. Family Holiday Charity can only help families like these with your support.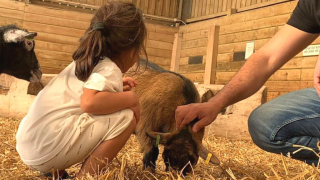 Families like Shania's, enjoy a better future thanks to regular gifts from supporters like you.
Why regular giving?
Quite simply, regular gifts help us to plan ahead and make long term commitments to families facing tough times. The families that something as simple as a short break will make a world of difference to.  
A regular gift means we can continue to offer breaks across the years because we know, day in, day out, that we will have the income to enable us to offer holidays that so many families desperately need and can't access on their own.  
Regular gifts mean we can 
Send families away for longer through the year, including school holidays 
Plan further ahead than just a year 
Make sure we are providing different holiday options that will suit everyone's different needs 
Reduce isolation and loneliness, improve wellbeing and mental health 
Build confidence and hope for the future  
What your gift means 
Your gift will make all the difference for children who haven't seen the sea, or teenagers who can't remember when their mum last smiled.  Or for stressed carers who are making increasingly difficult choices about how to balance the family budget.  
£5.00 per month – would contribute towards some of the little extras that make a holiday   
£10.50 per month - over the course of two years, one family would benefit from a holiday.  
£21.00 per month - one family would be able to have a short break holiday, thanks to you.  
£30.00 per month – would pay for one family to have a holiday and contribute towards their essential travel costs.  
Three ways to set up a regular gift today:  
1. Visit our donation page and sign up to make a regular gift each month via Direct Debit  
2. Log on to your online banking app and set up a standing order  
Account name: Family Holiday Association 
Sort Code: 20 37 83 
Account number: 60355321 
Reference: please use your last name and first initial as a reference  
3. Pop into your bank branch and ask them to help you set up a standing order.  
You can change your mind about your gift or giving amount at any time. Just get in touch and we'll be able to talk you through the steps you need to take.