The Great North Run is a city to sea 13.1mile course starting in Newcastle, heading across the Tyne Bridge before finishing in South Shields. 57,000 people take part in this half marathon making it the UK's biggest running event. 
If you only run one half marathon – make it this one!
Newcastle is enormously proud of its race, so the cheering, welcome, and encouragement along the route make this quite a special experience. 
There is a £35 registration fee, and the minimum fundraising pledge is £325 (without gift aid).
The money you raise will help a family facing tough times to feel the lasting impact of a holiday.
Holidays give families space and time together – to laugh and have fun – as well as rethink, rebuild and refresh. Breaks open up a world of possibilities, bringing long lasting impact and bringing smiles all around.
So, apply for a Great North Run place today and change somebody's life.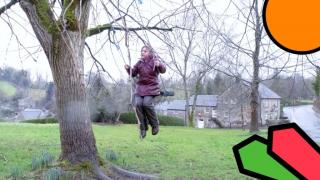 Helen's Story
Taking part in the Great North Run will help families like Helen's.
"I didn't want to be judged or the children to be judged."
If you have a ballot place
If you have your own ballot place for the Great North Run 2022 and would like to fundraise for the Family Holiday Charity, please email our team.